chain link fence
We canoffer galvanized chain link fence and pvc coated chain link fence
Material: Low carbon steel wire
Weaving: Woven diamond pattern provides strong, durable andflexible construction.
It can be used as fences in gardens , parks , roads , sports,industrial sites , sports field , river banks , construction andresidence, also animal fencing.
Benefits: Low carbon steel diamond mesh has a heavy galvanizedcoating to ensure a long life.
Packing: in rolls.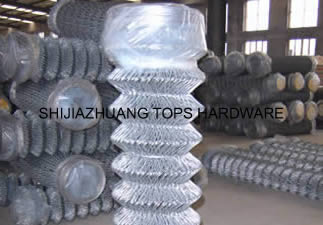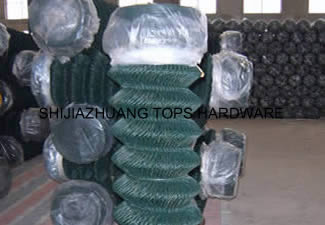 Galvanized Chain Link Fence
mesh (mm)
wire guage (SWG)
Wire Diameter (mm)
Weight Kg/m2
Coil Diameter ( cm )
Natural volume
Fold volume
200×200
8
4.06
1
60
35
150×150
10
3.25
0.9
55
32
100×100
9
3.66
1.7
55
35
80×80
10
3.25
1.68
57
38
60×60
12
2.64
1.5
52
34
50×50
12
2.64
1.83
49
33
40×40
10
3.25
3.56
46
32
30×30
12
2.64
3.25
42
34
20×20
19
1.02
0.7
25
34
PVC Coated Chain Link Fence
mesh (mm)
wire guage (SWG)
Wire Diameter (mm)
Weight Kg/m2
Coil Diameter ( cm )
Natural volume
Fold volume
80×80
8
3.0/4.06
1.72
65
40
60×60
9
2.6/3.66
1.75
59
38
55×55
10
2.2/3.25
1.38
54
35
50×50
10
2.2/3.25
1.67
49
35
45×45
8
3.0/4.0
3.2
50
35
40×40
10
2.2/3.25
2
45
34
35×35
12
2.0/2.64
1.9
40
30