Welded Wire Mesh
Materials : selected quality Lowcarbon steel wire , stainless steel wire, PVC wire.
It throughs the process of automation and sophisticated welding technique. The end product is level and flat , sturdy structure , and evenstrength throughout , the netting shows no wearand tear when cutting off a part or under a stress
Processing:
· Galvanized after welding
· Galvanized before welding
Application:Welded wire mesh is used in industry andagriculture building , transportation and mining for all such purposes as poultry houses, egg baskets, runway enclosures, draining rack,fruit drying screen, fence.
Packing: Each roll wrapped with water proof paper or plasticshrink packing.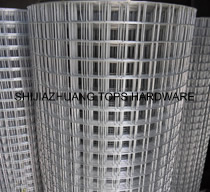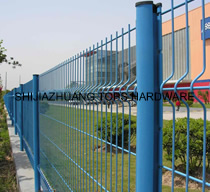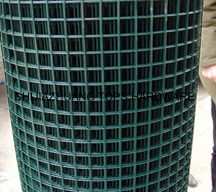 Standard Welded Wire Mesh (in 30m length, Width of 0.5m-1.8m)
Mesh
Wire Gauge
Inch
MM
(BWG)
1/4" x 1/4"
6.4mm x 6.4mm
22,23,24
3/8" x 3/8"
10.6mm x 10.6mm
19,20,21,22
1/2" x 1/2"
12.7mm x 12.7mm
16,17,18,19,20,21,22,23
5/8" x 5/8"
16mm x 16mm
18,19,20,21
3/4" x 3/4"
19.1mm x 19.1mm
16,17,18,19,20,21
1" x 1/2"
25.4mm x 12.7mm
16,17,18,19,20,21
1-1/2" x 1-1/2"
38mm x 38mm
14,15,16,17,18,19
1" x 2"
25.4mm x 50.8mm
14,15,16
2" x 2"
50.8mm x 50.8mm
12,13,14,15,16
1/4" x 1/4"
6.4mm x 6.4mm
12, 13, 14, 15, 16
Welded Fencing Mesh (in 30m Length, Width of 0.5m -1.8m)
Mesh
Wire Diameter
Inch
MM
(MM)
2" x 3"
50mm x 75mm
2.0mm,2.5mm,1.65mm
3" x 3"
75mm x 75mm
2.67mm,2.41mm,2.11mm,1.83mm,1.65mm
2" x 4"
50mm x 100mm
2.11mm,2.5mm
4" x 4"
100mm x 100mm
2.0mm,2.5mm
PVC Coated Welded Mesh (in 30m Length, Width of 0.5m-1.2m)
Mesh
Wire Gauge
Inch
MM
(BWG)
1/2" x 1/2"
12.7mm x 12.7mm
16,17,18,19,20,21
3/4" x 3/4"
19mm x 19mm
16,17,18,19,20,21
1" x 1"
25.4mm x 25.4mm
15,16,17,18,19,20