Razor Barbed Wire Machine
Razor barbed wiremachine produce razor barbed wire, which mainly used in military facilities, communication station, power distribution station, borderline of the presion,landfill, community protection, schools, factories, farms and other securityisolation.
The machine including two main parts isPunching machine and Forming machine.
Punching machine : it use for cut the steelstrip, and make steel strip into razor blade.
Different mould can makedifferent razor blade shape, 5 strips and 9 strips is the most commonmodel.
Forming machine : it usefor warp steel wire into razor blade then wind up razor blade wire in coil.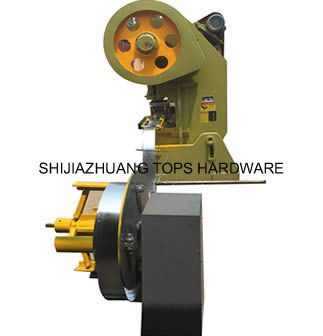 Punching machine
Model
5 strips
9 strips
Power
2.2KW
2.2KW
Voltage
380V/50HZ
380V/50HZ
Producing speed
220-280m/h
220-280m/h
Pressure
40T
63T
Blade thickness
0.5 ± 0.05mm
0.5 ± 0.05mm
Forming machine
Power
1.5KW
Voltage
380V/50HZ
Producing speed
80kg/h
Diameter of steel wire
2.5mm
Blade thickness
0.5 ± 0.05mm